Courses
This page provides access to information about current course offerings in biomedical engineering. Both graduate and undergraduate courses can be found here.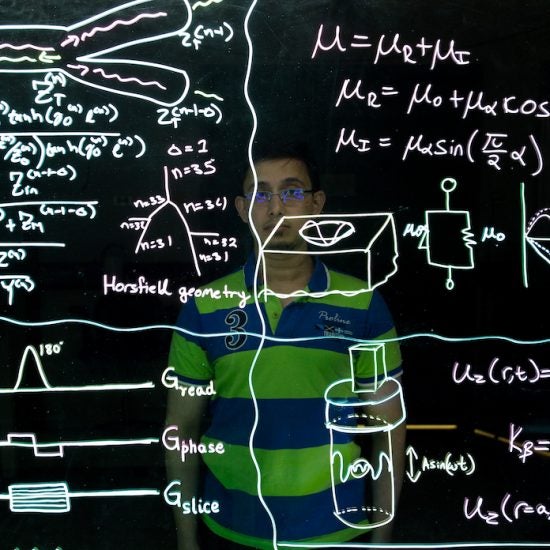 The course catalog page contains up-to-date course codes and descriptions for classes in both biomedical engineering and bioinformatics. Starting Fall 2021, it will include a mix of BIOE and BME courses while we transition to the biomedical engineering department.  BIOE course catalog >>
View BME Courses
Biomedical engineering course guides and resources Heading link
BioE 494 Human Movement and Neural Control

This is a lecture course providing an overview of the broad field of human movement biomechanics and neural control. This develops engineering skillsets for rigid body kinematics and dynamics, solves quantitative problems associated with the study of human movement, and a literature overview. This includes computer modeling of how the central nervous systems controls musculoskeletal movement, including muscle mechanics, gross body dynamics, control theory, and motor learning.

Prerequisites: BIOS 110, MATH 180, CS 109 (or equivalent)

BioE 494 MRI in Practice

Magnetic Resonance Imaging (MRI) is one of the most widely used imaging modalities in hospitals and clinics for medical diagnosis due to its non-invasive, non-ionizing, and multi-planar capability to visualize human body. This course offers in-depth discussions covering all core areas, including: basic principles, image weighting and contrast, spin and gradient echo pulse sequences, spatial encoding, k-space, protocol optimization, artefacts, instrumentation, and MRI safety. We will use the leading MRI reference book MRI in practice as our textbook. This course will prepare students, in the future, for advanced researches on MR imaging and for MRI related occupation, for example, the advanced level examination for MRI offered by the American Registry for Radiologic Technologists (ARRT) in the USA.

BioE 494 Biomedical Computer Vision

This course will teach introductory computer vision with a focus on biomedical applications. The course will go through image processing methods, feature extraction, machine learning, and introductory deep learning for computer vision (i.e. convolutional neural networks for classification). The class will focus on 3-4 problem sets that will be a mix of theory questions and programming assignments, all of which will be in Python. A major portion of the class grade will also be a group project, where students will work in groups of 3-4 and apply the learned methods to a novel research problem on real world data.

BioE 594 Mechanical Wave Motion in Medical Diagnostics & Imaging

Theory of acoustics in fluids and solids. Measurement methods. Medical diagnostic and imaging applications: cardiovascular and pulmonary acoustics, ultrasound, dynamic elastography. Students must have graduate standing in an engineering program or permission of the instructor. Must have had differential equations (e.g. Math 220) with grade of B or better.

BioE 594 Quantitative Human Physiology

This course is designed to teach students the fundamentals of key organ systems in the human body from a quantitative perspective such that certain aspects of the systems can be understood at a more intuitive level and be used to predict physiological outcomes for needs in healthcare. Students will also be introduced to cutting edge examples in biomedical engineering research and development in which physiological principles are being used in academic and industrial settings to design model systems for different applications, such as drug development and regenerative medicine (i.e. cell-based therapies for patients suffering from organ failure). The knowledge gained in this course will be invaluable to make students well-rounded biomedical engineers in their current degree program but also beyond in the job market. Both graduate students and undergraduate students are welcome to take this course since the instructor will provide adequate guidance and materials to ensure that students with different backgrounds can succeed in the course.

BioE 594 Introduction to Medtech Innovation: Concept Development

Interdisciplinary course with first year IMED medical students to refine concept solutions for unmet clinical needs. This class is aimed at biomedical engineering graduate students with an interest to lead in the development of a prototype medical device in collaboration with medical students. IMED students have spent the fall validating clinical problems and have developed several potential concept solutions. We are looking for biomedical engineering students who want to sharpen their interpersonal communication skills, contribute technical expertise to design a prototype using the product development process. Please note the course is an evening, synchronous virtual class on Tuesdays. Class meets approximately every two weeks 5-7 pm. Limited enrollment. Please reach out to Dr. Kotche for additional information and permission to register.

BioE 594 Advanced Biomedical Computer Vision

This course will teach the current state of the art for computer vision with a focus on biomedical applications. The course will go through advanced topics in deep learning, such as segmentation, detection, image generation, multi-task learning, feature learning, black box visualizations, and much more. The class will function much like a journal club with students taking turns presenting various papers written in recent years. The class assumes a strong base understanding of computer vision and modern-day deep learning. The main focus of the class, outside of the lectures and assigned readings, will be a final project where students work in groups of three or four to apply the learned methods to a novel research problem on real-world data.