Annual Research Symposium
UIC Biomedical Engineering Research Symposium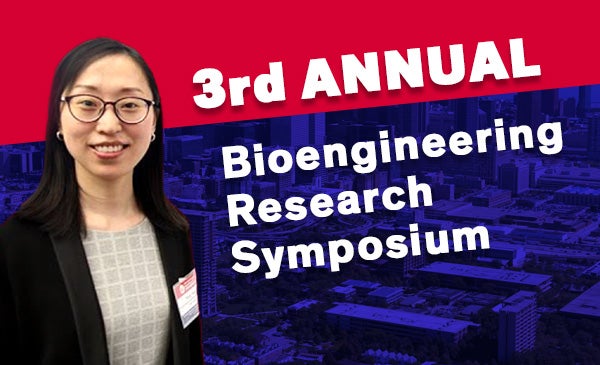 The Richard and Loan Hill Department of Biomedical Engineering and the UIC student chapter of the Biomedical Engineering Society (BMES) co-sponsor the UIC Biomedical Engineering Research Symposium every spring on the UIC campus. The symposium features a keynote presentation along with oral and poster presentations from both undergraduate and graduate students.
The students' research covers topics that touch on the comprehensive breadth of work being done in the bioengineering field, including tissue engineering, drug delivery, antibiotic resistance, eye imaging, and wearable technologies.
The symposium provides a great opportunity for students to hone their presentation skills to both other students and faculty. Awards are given out to students in a variety of categories.
All undergraduate students, graduate students, postdoctoral fellows/associates, and research associates/fellows/specialists at UIC who are engaged in biomedical engineering research within or outside the College of Engineering are encouraged to submit an abstract and participate in the symposium.
details
Event format

The Third Annual UIC Biomedical Engineering Research Symposium will be held virtually in a Zoom call. For the majority of the event, including during opening remarks, the keynote, oral presentations, and the awards ceremony, all attendees will be in the main virtual room. During the poster session and lunch break, attendees will be able to join breakout rooms to view the poster presentations of their choice.

Schedule

| | |
| --- | --- |
| 9:00 AM | Log into Zoom session |
| 9:05 AM | Opening Remarks - BMES student chapter |
| 9:15 AM | Keynote speaker: Dr. Ian Papautsky, Professor of Biomedical Engineering, UIC |
| 9:50 AM | Break |
| 10:00 AM | Oral Presentations |
| | Kai-yuan Cheng (Mathew Lab): Increased Fretting-Corrosion Damage at Hip Taper Junction Induced by CoCrMo-Debris Challenged Macrophage Media: In-vitro Study |
| | Ik Sung Cho (Shin lab): Engineering single cell polarity in three-dimensional matrices |
| | Aixiang Ding (Alsberg lab): Cell-laden shape-morphing hydrogels for morphodynamic tissue engineering |
| | Xin Li (Shah lab): 3D-printed hybrid scaffolds for control of biliary tree formation in vitro |
| | Allison Bayro (Esmailbeigi lab): A Real-Time Tongue Motion Visualization Wearable Device |
| | Shujun Lin (Klatt lab): Development of in vivo human brain DTI-MRE: Optimization of experiment parameters |
| 11:15 AM | Poster presentations (breakout sessions within same Zoom link) |
| 1:00 PM | Oral Presentations |
| | Trinh Lam (Eddington lab): Competence pili in Streptococcus pneumoniae are highly dynamic structures that retract to promote DNA uptake |
| | Tae-Hoon Kim (Yao lab): Quantitative OCT and OCTA of retinal neurovascular degeneration in an Alzheimer's disease mouse model |
| | Mina Shahmohammadi (Takoudis lab): Novel study on mixed ultra-thin films of titanium and zirconium oxides on titanium implant abutment surfaces using atomic layer deposition |
| | Olivia Ly (Darbar lab): Insights into Atrial Cardiac Development and Modeling Atrial Fibrillation with the Maturation of Human Induced Pluripotent Stem Cell Derived Atrial Cardiomyocytes |
| | Chase Monckton (Khetani Lab): Microarray Platform to Investigate Synergies of Chemo-Mechanical Cues on Primary Human Hepatocytes |
| 2:00 PM | Break |
| 2:10 PM | Oral Presentations |
| | Derek Reiman (Dai lab): Using Conditional Generative Adversarial Networks to Boost the Performance of Machine Learning in Microbiome Datasets |
| | Zhehao Zhang (Papautsky Lab): Microfluidic potentiometric sensor based on PCB for in situ monitoring |
| | Tao Teng, Xue Geng, Hugo S Stern (Lee lab): Human APOE on glial function: from cPLA2 expression and nuclear mechanics to exosome production |
| | Undergraduate presentation - Amanda Bogseth (Papautsky lab): Chemical-free cell cycle synchronization using an inertial microfluidic device |
| | Undergraduate presentation - Andrea Ohk (Peñalver Bernabé lab): MoMent: Untargeted Metabolomics Analysis of Blood Plasma in Mood Disorders During Pregnancy |
| 3:10 PM | Break (to collate judges' feedback for awards) |
| 3:40 PM | Award Ceremony and Closing Remarks |

Awards

Amazon gift cards will be awarded as prizes for top poster and oral presentations (as determined by an expert panel of judges) for both graduate student and undergraduate student categories.
Registration and Abstract Submission
Highlights From Past Symposiums!
Questions?
Send us an email at bmesymposium@uic.edu.