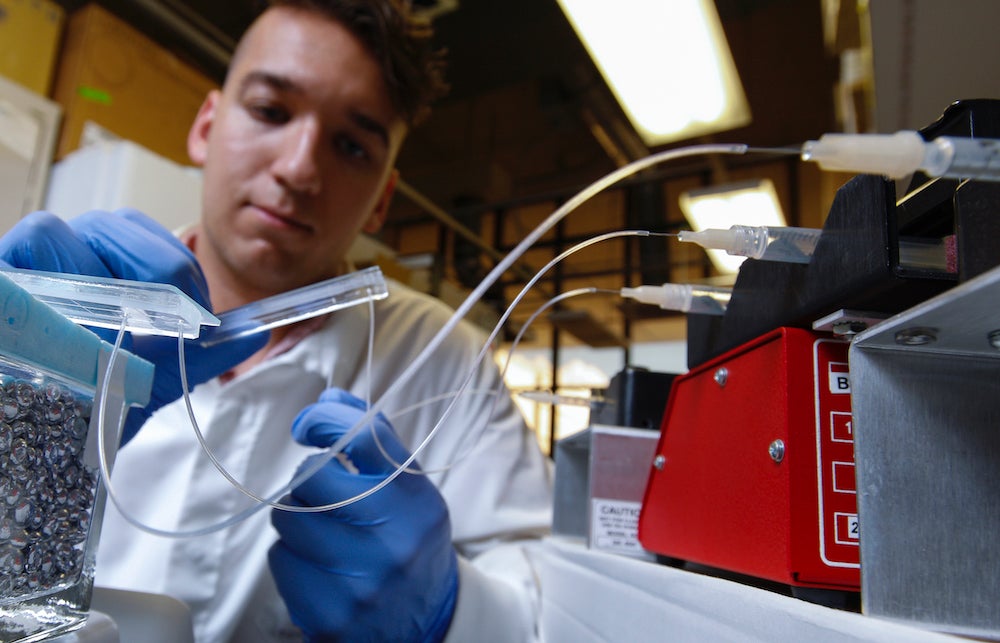 UIC's biomedical engineering department provides an undergraduate education in the fundamentals of both biology and engineering, allowing you to connect the two through coursework, hands-on activities, and research projects.
In our department, undergraduates can choose a biomedical engineering major or a biomedical engineering minor.
The biomedical engineering major includes four concentrations:
Bioinformatics
Brings together computer science, statistics, and molecular biology to explain how genetics directly affect the function of all living things.
Biomedical Imaging
Provides ways to see inside the human body: enhancing current methods, such as magnetic resonance, ultrasound, and nuclear imaging, as well as exploring the cutting edge.
Cell and Tissue Engineering
Creates and grows biological structures that can restore human function, such as insulin production, or stimulate the body to repair injuries by regenerating itself.
Neural Engineering
Uses artificial bioelectric interfaces to create neuro-prosthetic devices such as cochlear implants, which are in use today, and a silicon retina, which is being developed.
Career paths in biomedical engineering and bioinformatics Heading link
At UIC, our experts in
Bioinformatics
Biomaterials
Biomechanics
Biomedical Imaging
Biomolecular Engineering
Cell and Tissue Engineering
Computational Modeling
Human Augmentation
Human Microbiome
Metabolic Modeling
Nanotechnology
Neural Engineering
Rehabilitation
Systems Biology
will help to prepare you for careers in
Medtech/Biotech R&D
Medtech/Biotech Entrepreneurship
Medicine
Dentistry
Patent Law
Health Policy
And much more.
The Engineering Career Center helps UIC undergraduates to chart their course in these and other fields.
Learn more about undergraduate study in biomedical engineering and bioinformatics at UIC. Choose your degree program below: