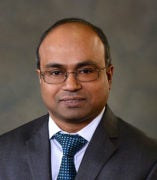 Mathew Mathew, PhD
Associate Professor
Contact
Building & Room:
551 DENT
Address:
801 South Paulina Street, MC 555, 60612
Office Phone:
Email:
CV Download:
Selected Publications
Marques ISV, Alfaro MF, Cruz NC, Mesquita MF, Sukotjo C, Mathew MT, Barão VAR. Tribocorrosion behavior of biofunctional titanium oxide films produced by micro-arc oxidation: Synergism and mechanisms, Journal of the Mechanical Behavior of Biomedical Materials, 2016;60 8-21
Royhman D, Patel M, Runa M,  Jacobs JJ, Wimmer MA, Hallab N, Mathew MT. Fretting-corrosion in hip implant modular junctions: New experimental set-up and initial outcome, Tribology international, 2015;91 235–245
Mathew MT, Kerwell S, Lundberg HJ, Sukotjo C, Mercuri LJ.  Tribocorrosion and Oral and maxillofacial  Surgical Devices,  BJOMS-D-14-00003, Accepted in The British Journal of Oral & Maxillofacial Surgery. 2014; 52-5 396–400
Mathew MT. Jacobs JJ, Wimmer MA. Wear corrosion synergism in a CoCrMo Hip Bearing Alloy is influenced by proteins, Clinical Orthopedics and Related Research (CORR), 2012, Ref:  DOI 10.1007/s11999-012-2563-5.
Savi A, Mathew MT, Hall D, Hallab NJ, Sukotjo C, Wimmer MA. Electrochemical Behavior of Dental Implants (CpTi):  Influence of pH of Artificial Saliva, J Oral Implantol. 2011 Nov 21
Mathew MT, Srinivasa Pai P, Fischer A, Wimmer MA. Tribocorrosion: Review, current status, and future perspective, Recent advances in Tribology, 2009; 12: Article ID 250986
Research Currently in Progress
Dr. Mathew's major research focus is in the area of simulation of human artificial joints, biomechanics and tribocorrosion of implanted biomaterials used in dentistry and orthopedics. Biomedical implants are increasingly used to assist the patients with disability and bring comfort and continue their healthy physical activities. The main objective of his research is to increase the longevity of implants and determine the biocompatibility and stability of the implants using an interdisciplinary approach. Fretting-corrosion of hip implants is a major concern in orthopedic patients. Similarly, durability and performance of dental implants are limited because of the harsh oral environment due to constantly varying pH and biofilm growth based on the food habits and oral hygiene of the subject. By using the concept of synergism between wear and corrosion (tribocorrosion), Dr. Mathew seeks to understand the degradation mechanisms in implants and provide solutions to prevent the failure and/or early prediction of the failure processes. Dr. Mathew and his team have developed various surface modifications on the implants that can resist superior wear and corrosion and still maintain biocompatibility. Dr. Mathew and his group are also actively involved in developing new diagnostic tools for detecting implant-derived circulating metal ions in the blood of patients who received metal implants. He is leading the Regenerative Medicine and Disability Research lab, within the Department of Biomedical Sciences at the University of Illinois College of Medicine Rockford.
Dr. Mathew also holds a faculty appointment at the College of Dentistry and Department of Biomedical Engineering, University of Illinois Chicago, and Department of Orthopedic Surgery, Rush University Medical Center Chicago. Dr. Mathew developed graduate-level courses for the Master of Science in Medical Biotechnology (MBT) Program in Rockford and Bioengineering PhD students. His research is supported by NIH, NSF and research foundations. He is the Editor-in- Chief of the Journal of Bio and Tribocorrosion by Springer and was  instrumental in initiating an international research institute called "Institute of Biomaterials, Tribocorrosion and Nanomedicine" (IBTN), which is a joint venture between University of Illinois (UIC) and UNESP, Brazil.