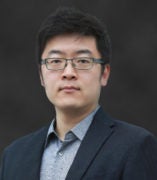 Zhinan Wang, PhD
Clinical Assistant Professor
Contact
Address:
851 S Morgan St, MC 063, Chicago, IL 60607
Office Phone:
Email:
Research Currently in Progress
Zhinan Wang's current focus is on the development of student's ingenuity and initiative beyond the coursework in engineering education. He also works on the methods and techniques of technology-based instruction to discover engineering students' potentials and generate their own scholarly interests. Zhinan's previous research interests include biomedical imaging, microscopy, ultrafast laser spectroscopy, and optics.