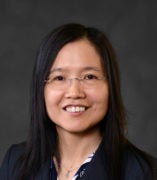 Xue-Jun Li, PhD
Professor
Contact
Building & Room:
Department of Biomedical Sciences
Address:
University of Illinois College of Medicine at Rockford, IL 61107
Office Phone:
Email:
Research Currently in Progress
Degeneration of motor neurons, large projection neurons controlling the movement of muscles, underlies many debilitating diseases. One of the research focuses in Dr. Li's lab is to direct human pluripotent stem cells into motor neurons including both upper and lower motor neurons. She also seeks to build three-dimensional neural tissue co-culture models to study the connections between upper and lower motor neurons. The other focus of Dr. Li's research is to use human pluripotent stem cells to model motor neuron diseases and spinal cord injury. Her lab has successfully established human stem cell models for spinal muscular atrophy (affecting spinal motor neurons) and hereditary spastic paraplegias (affecting upper motor neurons). Her lab is now building models for spinal cord injury by severing distal axons of human neurons. Using these human stem cell-based disease models, Dr. Li's group will dissect the pathogenic mechanisms and identify therapeutic targets for rescuing motor neuron degeneration and promoting nerve regeneration. Moreover, Dr. Li's group plans to utilize patient-specific neurons to build high-throughput and high-content drug screening systems, which will enable the identification of therapeutic agents for the treatment of these debilitating diseases.