Student research shines at third annual Research Symposium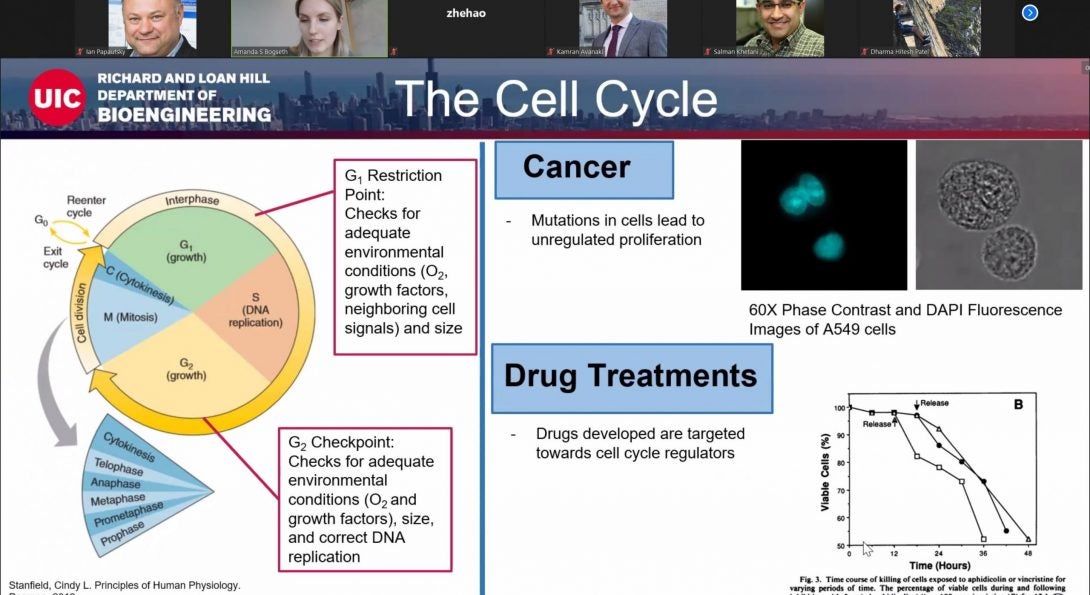 After a brief hiatus in 2020, the UIC Bioengineering Research Symposium was back — virtually — on April 16 with dozens of participants and a wide array of research projects.
The event, co-sponsored by the Richard and Loan Hill Department of Bioengineering and the UIC student chapter of the Biomedical Engineering Society, drew about 85 students and faculty members. It featured a keynote speech from Richard and Loan Hill Professor Ian Papautsky, oral presentations from graduate and undergraduate students, virtual breakout rooms for poster presentations, and an awards ceremony.
Senior Andrea Ohk said it was rewarding to see the research going on in the department. She valued being able to talk to graduate students and professors about their experiences, too.
"It was nice to be able to present what I have been working on for the past year, especially as it is my last semester of undergrad," Ohk said. "It's amazing to look back and see how much I've learned in the past four years."
Ohk took home the first-place undergraduate oral presentation prize for her work on identifying biomarkers of mood disorders, such as depression, in the blood plasma of pregnant women. She noted that about 20 percent of pregnant women will experience some type of mood disorder during or soon after their pregnancy.
"Researchers have found that less than 15 percent of these expecting mothers will receive a proper diagnosis and treatment," Ohk said. "This can be due to a variety of factors, such as the stigma surrounding mental disorders or a lack of access to mental healthcare. It's really important to find an unbiased method of detecting mood disorders."
PhD student Adam Szmelter recommends that students attend symposiums and make presentations. He described it as a great opportunity to practice communicating your research.
That practice paid off for Szmelter. His poster, which summarized his work on how oxygen levels affect human tissue, won a first-place award.
He explained that the air we breathe contains 21 percent oxygen, but by the time it reaches most tissues in the body, the concentration can be much lower: from 1 percent in the skin to 6 percent in the liver. When scientists grow cells in the lab, they use 21 percent oxygen, which doesn't line up with real-world conditions. To solve this problem, Szmelter created a new device that incorporates more accurate oxygen.
A full list of winners from this year's symposium is below.
Poster award winners:
Graduate:
First Place: Adam Szmelter
Second Place: Grace Brown
Third Place (Tie): Giulia Venturini and Joseph Crutison
Undergraduate:
First Place: Aimee Padilla
Second Place: Anupriya Mathews
Third Place (Tie): Chandhana Voleti, Tommy Puttrich and the team of Alex Rivera, Manuela Burek, and Rudy Calderon
Oral presentation winners:
Postdoc/Research Associate
First place: Aixiang Ding
Graduate:
First Place: Zhehao Zhang
Second Place (Tie): Allison Bayro, Tae-Hoon Kim, and Chase Monckton
Third Place: Trinh Lam
Undergraduate:
First Place: Andrea Ohk
Second Place: Amanda Bogseth