Department hosts fourth annual Research Symposium in April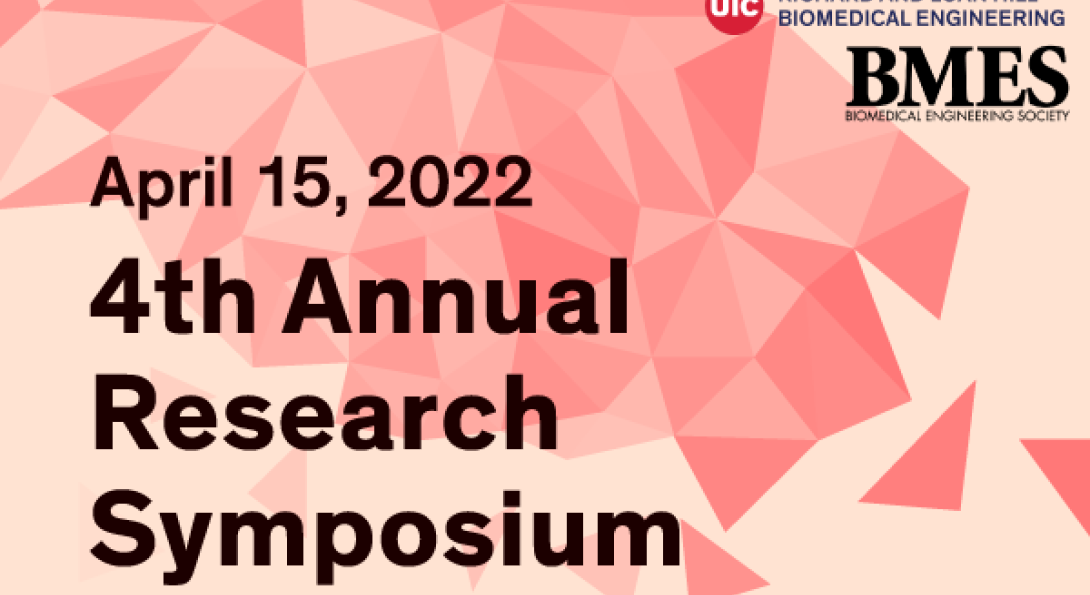 The Richard and Loan Hill Department of Biomedical Engineering and the UIC student chapter of the Biomedical Engineering Society (BMES) held the fourth UIC Biomedical Engineering Research Symposium this spring.
The symposium features a keynote presentation along with oral and poster presentations from both undergraduate and graduate students pursuing research in biomedical engineering fields. Faculty organizer Associate Professor Kamran Avanaki said the virtual event ran smoothly and featured a lot of interesting presentations and great participation from the audience. Specifically, he said around 20 students gave oral presentations, and 80 research posters were presented.
Clinical Assistant Professor Zhinan Wang served as keynote speaker for this year's event. Wang, along with Professor Thomas Royston, Assistant Professor Zhangli Peng, Professor James Patton, and Associate Professor Dieter Klatt, served as judges for the oral and poster competitions.
BME senior and president of Biomedical Engineering Society Mehreen Ali, who helped organize the event, said the event allows students and faculty to get an introduction to the wide range of research subtopics in BME and the different labs in the department.
Ali added the symposium is a great way for students to be able to showcase the work they have done throughout the year.
"Presenting at a research symposium is a clear marker of the work that you have done throughout school year and helps students develop their communication skills in order to easily convey their research ideas and results," Ali said. "Being able to convey complex ideas and research is not an easy task, but it is very important for biomedical engineers in research and industry, so it's good that students start being able to develop these skills early."
Ali thanked the other members of BMES for helping organize the large event, including Sara Kishta, Rana Abbed, Safa Hameed, Ali Thabab, Derrick Joseph, and Chandhana Voleti. She recommended future students in the department get involved in symposiums and other events to round out their experiences and careers.
"Overall, it does take a lot of time and effort, but planning events like this do benefit the entire department and community at UIC and allow for recognition of the amazing research BME students do at UIC," Ali said.
Winners from this year's symposium include:
First Place Graduate Oral Presentation: Sriramya Ayyagari
Second Place Graduate Oral Presentation: Suzanne Alvernaz, Giuseppe Lauricella, and Tobiloba Adejumo
First Place Post-Graduate Oral Presentation: Mohsin Zafar and Remya Ampadi Ramachandran
First place Undergraduate Oral Presentation: Besher Jabri
Second Place Undergraduate Oral Presentation: Lubna Shah
First Place Graduate Poster Presentation: Julia May
Second Place Graduate Poster Presentation: Yang Yuan
Third Place Graduate Poster Presentation: Irene Canavesi
First Place Undergraduate Poster Presentation: Rana Abbed
Second Place Undergraduate Poster Presentation: Lubna Shah
Third Place Undergraduate Poster Presentation: Timothy Leong
First Place Post-Graduate Poster Presentation: Yong Duk Han
Second Place Post-Graduate Poster Presentation: Mohsin Zafar