BMES and UIC highlight expansive bioengineering research projects at second annual research symposium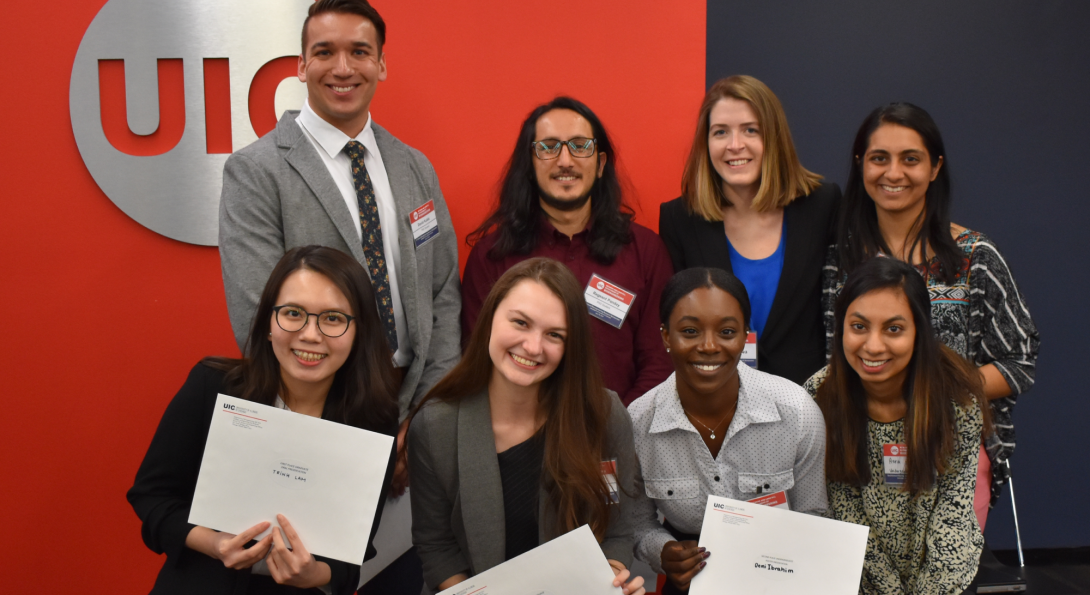 BMES and UIC highlight expansive bioengineering research projects at second annual Research Symposium Heading link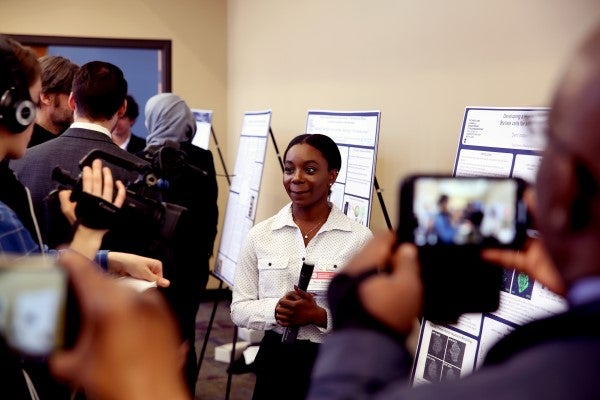 The University of Illinois Chicago's Bioengineering Department and the UIC student chapter of the Biomedical Engineering Society (BMES) hosted the second annual UIC Bioengineering Research Symposium on April 15.
This year's symposium featured a keynote presentation from Richard and Loan Hill Professor of Bioengineering and Orthopaedics Eben Alsberg, 36 posters from graduate and undergraduate students, and eight oral presentations by graduate students and postdoctoral associates.
The topics covered at the symposium touched on the extensive breadth of the bioengineering field and included work on non-alcoholic fatty liver disease, liver tissue engineering, hydrogels to delivery drug therapies, droplet technology to study antibiotic resistance, super-resolution imaging of retinas, linear predictive coding to help correct oral-motor speech disorder, an upper limb support system for laparoscopic procedures, and many others.
The event allows students to gain invaluable experience in presenting their research to a broader audience in a professional, but controlled environment, according to Associate Professor Salman Khetani.
"It is a great skill to be able to describe your research to a non-specialist," Khetani said. "Because we are always so engulfed in what we do, we sometimes forget the best way to communicate it to other people."
He added the event is also a great resume builder for both the students who put together posters or oral presentations, which they can use at other conferences, but also for the student organizers.
Khetani stressed how valuable it was for BMES to organize the event, judge the poster and oral presentations, and provide the awards for the winners.
"This is an event by the students, for the students, and of the students," he said. "The department provides the baseline infrastructure, but this is a student run activity … I think it is a really important part of this, because I do not want this to be just another national conference, because there are plenty of those."
BMES gave out awards to students for both oral and poster presentations. The oral awards went to Grace Brown and Trinh Lam, who received second and first place, respectively. The undergraduate poster awards included a second-place finish for Demi Ibrahim and a first-place finish for Haley Patel, while the graduate poster awards were given from third to first to Stephen Lenzini, Regeant Panday, and David Kukla.
Kukla, who is working with in-vitro models of non-alcoholic fatty liver disease to find dietary triggers of the condition that some researchers believe impacts 1 in 3 Americans, said he was really excited to win the top graduate poster award. He added that the symposium was also a great opportunity to practice presenting his work to a larger audience outside of his lab.
"It definitely prepares you for these short presentations where you showcase your research," Kukla said. "We are in a lab all the time, so you are not really talking and presenting on things, so I understand how for some people this can be kind of scary, but by having these symposiums, it allows you to really work on those skills."
The symposium also allows undergraduate and graduate students a chance to see and learn about all the other research going on within the department and wider university. Khetani said the event could also help inspire undergraduates to seek out more information on or pursue graduate opportunities at the department's labs or in the research and development fields in industry. Kukla agreed and added the event is a great place to find other students and researchers to work with.
"In grad school, you are in your lab every day all day, so you don't really get to see what else is going on," Kukla said. "So, it's a great opportunity to see what other labs are doing and what potential collaborations are available."
Fresh off the successful sequel to last year's inaugural event, Khetani is already thinking about ways to expand and improve the symposium in the future. He said the organizers received 52 abstract submissions for this year's event, which he would love to increase to 100 submissions in the next few years. The organizers would also like to move to a larger space starting next year as this year's 100 attendees were a little cramped in the current space.
In addition to those small changes, Khetani would eventually like to invite other bioengineering students and departments from other Chicago-area universities. He said this would allow undergraduate students at UIC and from other institutions a chance to see what other opportunities are available within the city.
"My ultimate plan would be a Chicago Bioengineering Day where we showcase Chicago as the hub of bioengineering research outside of Boston and San Francisco," Khetani said.
By David Brazy, UIC
Modified on July 02, 2020