Bioengineering Professor Xincheng Yao awarded SPIE, AIMBE fellowships
Bioengineering Professor Xincheng Yao awarded SPIE, AIMBE fellowships Heading link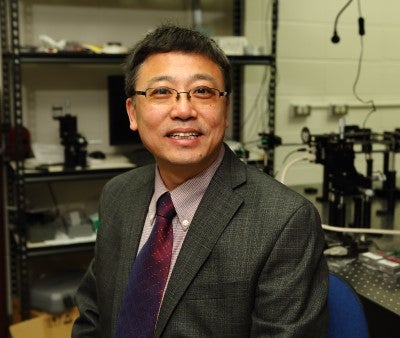 Xincheng Yao, the Richard and Loan Hill professor of Bioengineering and Ophthalmology and Visual Sciences at the University of Illinois Chicago, was recently honored as a 2019 Fellow of The International Society for Optics and Photonics (SPIE).
The society promotes members as new fellows within SPIE each year to honor those who have made significant scientific and technical contributions in the fields of imaging, optics, and photonics. The group works with scientists, educators, and members of industry to advance light-based research and technologies.
SPIE noted Yao received his fellowship for his achievements in optical imaging of retinal function, optical coherence tomography, and super-resolution microscopy.
"I was deeply honored to be recognized by the society because it helps people know about work ongoing at UIC," Yao said. "SPIE is an optical society. They organize scientific conferences regularly, actively promoting scientific research, industry engineering and education opportunities in optics."
Yao said his lab is working on developing optics-based imaging technology, with a specific focus on eye applications, including retinal disease detection and treatment evaluation.
"We try to detect the early stages of disease because it gives us a better chance for treatment," Yao said. "If a retinal disease is discovered too late, it can be a big problem and lead to visual losses and even total blindness."
Yao noted his lab is currently working on several projects related to imaging of the eye, including ultra-wide field fundus photography, functional optical coherence tomography (OCT), super-resolution ophthalmoscopy, retinal image analysis and classification.
He noted the human eye is unique because it is transparent, which opens up optical imaging possibilities for retinal examination at high resolution.
"From the neuroscience point of view, our retinas belong to the brain," Yao said. "It's part of the central nervous system. The eye can be an open window for us to diagnose brain diseases also."
Yao was also recently inducted as a Fellow into the American Institute for Medical and Biological Engineering (AIMBE). Yao was selected for the college for his contributions to retinal biophysics, functional OCT, OCT angiography, super-resolution microscopy, and ultra-widefield fundus photography.
This year's Class of Fellows were celebrated during the AIMBE annual meeting at the National Academy of Sciences in Washington, D.C., on March 25.
Yao said he was deeply honored to be elected as AMBIE Fellow and to be recognized by the biological and medical engineering communities.
By David Brazy, UIC
Modified on July 02, 2020