BioE team wins first place prize GSSA undergrad hackathon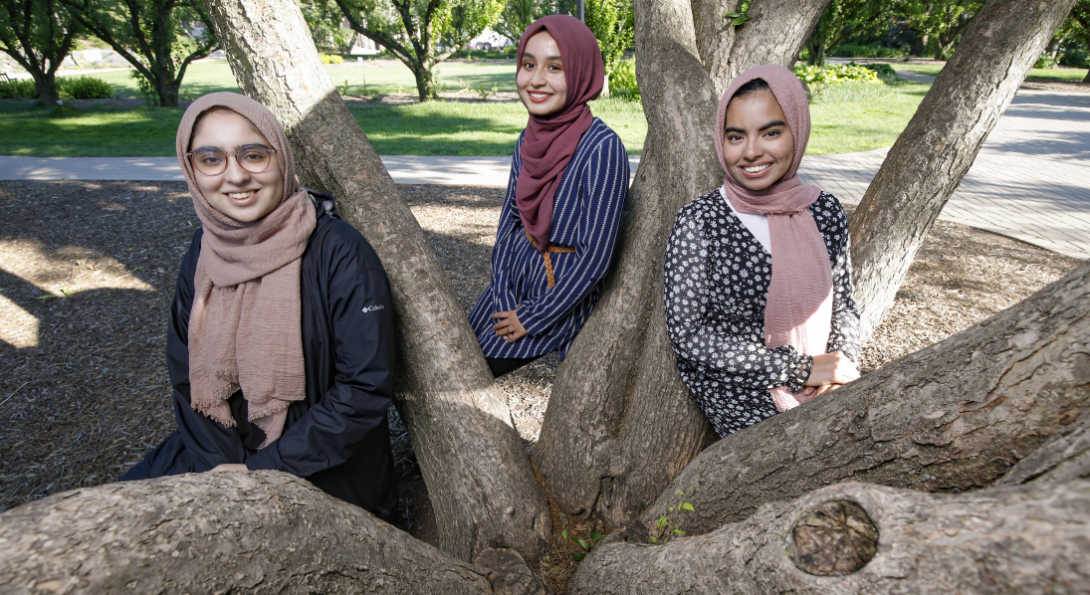 Three UIC bioengineering students won first prize in a hackathon that challenged participants to develop an innovative design to save newborn babies who need emergency surgery.
Their innovation centers around an item that might make most people think of soft material and animal patterns. But Safa Hameed, Mehreen Ali, and Lubna Shah saw medical potential in a baby blanket: a way to keep babies alive while being transported for live-saving operations.
Ali had competed in one medical hackathon before: MedHacks 2020. It was a great experience, so when she learned about this hackathon run by the Global Surgery Student Alliance, she wanted in.
"I shared it with Safa and Lubna and asked if they were interested in competing together," she said. "We thought it would be a great way to apply what we have learned at UIC bioengineering."
The first day of the two-day hackathon featured presentations from doctors around the world. They introduced eight problems that surgeons confront in lower- and middle-income countries and asked each team to propose a low-cost, low-power, low-water, durable, intuitive, and sustainable solution for one of the problems.
The UIC team decided to try to solve the challenge of transporting babies in Rwanda who are born with gastroschisis. This condition occurs when a baby's intestines develop outside the body cavity while still in the womb, and treating it requires immediate surgery after the baby is born. It is not often detected before babies are born in Rwanda, and the facilities where those infants can receive the surgery are often far away. En route to their operations, babies can develop hypothermia and other complications that lowering the surgical success rate.
To prevent hypothermia and improve outcomes for Rwandan babies with gastroschisis, the team created a low-cost, low-resource heated blanket that can be used to cover the baby during transport. Shah noted the blanket can be built on site at a local hospital and uses parts from unused medical devices.
Winning first prize for their design caught the team off guard.
"I was pretty confident in our idea, but you never know what will happen at a hackathon, so it was still a surprise that we won," Ali said. "We were all on the Zoom call together and FaceTimed each other after to celebrate."
Ali added the prize was awarded by the physician who had presented the problem based on her own experience working with newborns in Rwanda, so the positive feedback held extra weight and made the team feel like their idea is truly viable.
Shah said that bioengineering knowledge was useful in the competition.
"BIOE 250 Clinical Problems in Bioengineering was a really good background for this hackathon," she said. "We had done exactly the same steps in the class, where we would have a medical problem and think of a device as a solution for the problem, along with feasibility, cost, and materials considerations."
The students plan to continue to develop their thermal blanket design and are eyeing additional competitions they may enter to help advance its progress.
Modified on June 28, 2021