BioE alumnus profiled on WGN for vision-saving story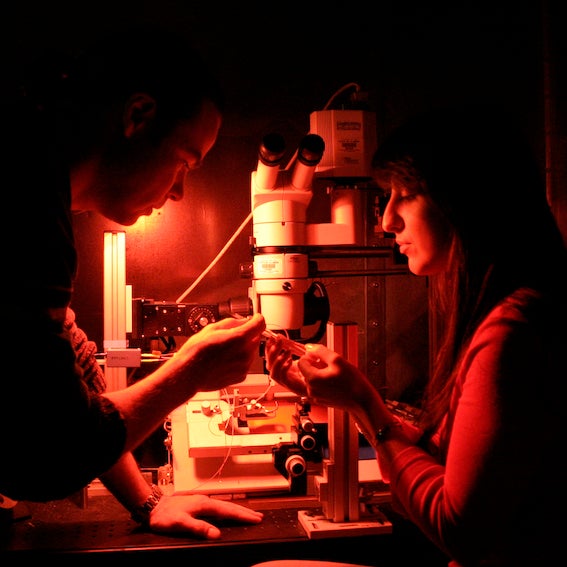 A Richard and Loan Hill Department of Bioengineering alumnus was recently featured in a WGN news report for helping restore the vision of an 18-year-old patient with special needs.
Safa Rahmani, an assistant professor of ophthalmology with Northwestern University Feinberg School of Medicine, is a retina specialist and member of the Lurie Children's Surgical Foundation.
The article profiles how Rahmani was able to help Margaret Panas and her son Harry Panas, who had a severely detached retina. Harry has been diagnosed with autism and is non-verbal, and the family ran into trouble finding a doctor in Wisconsin to perform the desperately needed surgery.
Rahmani and the team at Northwestern Memorial Hospital were able to successfully perform the surgery and help Harry through his recovery to restore his vision.
"It's one of those successes that keeps you going because you are making a difference in a kid's life," Rahmani said in the piece.
Rahmani received both her bachelors and master's degrees in bioengineering at UIC in 2004 and 2007 respectively. She worked closely with Associate Professor John Hetling and his Neural Engineering Vision Laboratory during her time in the department.
Hetling said Rahmani was the first graduate of the Northwestern Ophthalmology residency program to ever get into the Harvard Vitreoretinal Fellowship program.
Rahmani also helped co-found RetMap, a Chicago-based company that is working to bring vision-saving technology to the market to help patients with progressive eye disease by providing more effective screening, more accurate diagnosis, and more informative monitoring during disease management.
Hetling, who is the CEO of RetMap, said "Safa played a major role in discovering and developing those technologies."
Modified on December 21, 2020