AIMBE inducts four UIC Bioengineering professors to renowned College of Fellows
AIMBE inducts four UIC Bioengineering professors to renowned College of Fellows Heading link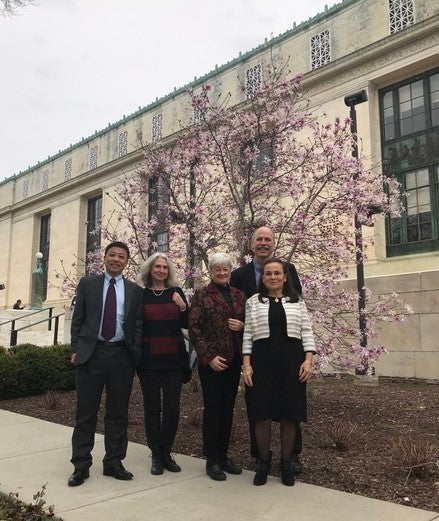 The American Institute for Medical and Biological Engineering (AIMBE) inducted four University of Illinois Chicago professors to its illustrious College of Fellows.
Four faculty members from the Richard and Loan Hill Department of Bioengineering were a part of this year's class, including Irena Levitan, professor of medicine, pharmacology and bioengineering; Hayat Onyuksel, professor of pharmaceutics and bioengineering; Brenda Russell, professor emerita of physiology and biophysics, bioengineering, and medicine; and Xincheng Yao, Richard and Loan Hill professor of bioengineering and of ophthalmology and visual sciences.
Being elected into the AIMBE College of Fellows is a high honor for engineers working in the medical and biological fields. In fact, the institute noted it's inductees are made up of the top 2 percent of medical and biological engineers.
Levitan was recognized for her outstanding contributions to the understanding of lipid-ion channel interactions, cellular biomechanics, and vascular dysfunction under dyslipidemia. Levitan and her research group provided the field the first comprehensive structural insights into cholesterol regulation of K channels.
Onyuksel was selected for her important contributions to the development of safe and effective nanomedicines for targeted treatments of breast cancer and inflammatory diseases. Onyuksel's lab delivers drug molecules by encapsulating them in an innovative nano-carrier system that allows for the drugs to be delivered directly to diseased tissues without causing side effects to healthy tissue.
Russell, a pioneer in the bioengineering field for almost five decades, was recognized for her investigation of the importance of forces and the microenvironment to cells. Her research has changed how scientists think about skeletal and cardiac muscle adaptation and helped introduce the possibility of multidimensional ways muscle can respond to mechanical demands.
Yao was selected for his contributions to retinal biophysics, functional optical coherence tomography (OCT), OCT angiography, super-resolution microscopy, and ultra-widefield fundus photography.
Bioengineering Professor Jim Patton and Richard and Loan Hill Professor Ian Papautsky were inducted as fellows in AIMBE last year.
This year's Class of Fellows were celebrated during the AIMBE annual meeting at the National Academy of Sciences in Washington, D.C., on March 25.
To learn more about AIMBE please visit https://aimbe.org/
By David Brazy, UIC
Modified on July 02, 2020