Virtual Bioengineering Industry Day set for March 5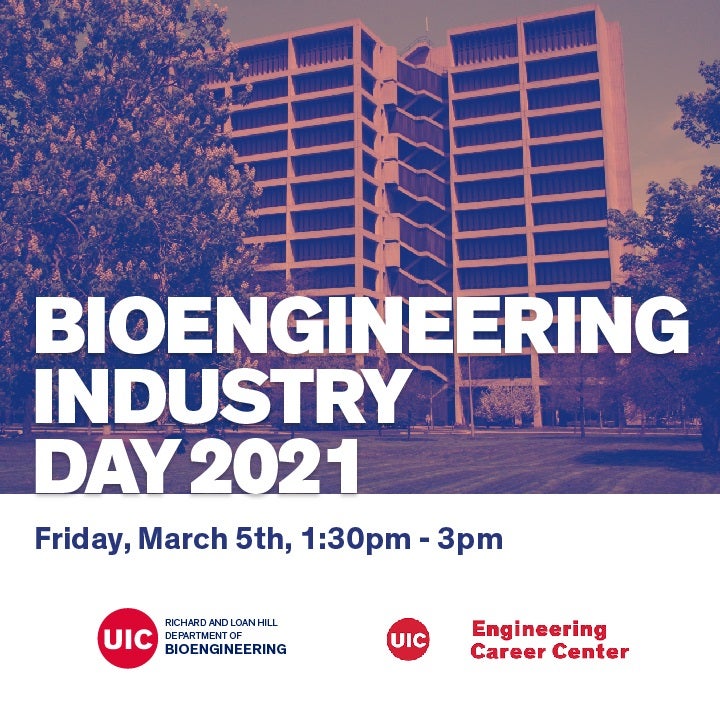 College students are repeatedly told that they need to get out and network. It can be a huge boost to a young person's career to be out in front of potential employers shaking hands, hearing stories, and swapping business cards.
Though the COVID-19 pandemic has made in-person meetings more difficult, the importance of networking remains. To that end, the Richard and Loan Hill Department of Bioengineering has organized an online industry day for its students in collaboration with the UIC Engineering Career Center.
The seventh annual (and now virtual!) Bioengineering Industry Day is scheduled for March 5 from 1:30 p.m. to 3 p.m. central time. Michelle Mittelman, an associate director in the career center, said this year's event, just like its predecessors, will allow students to learn from UIC alumni and other professionals in the bioengineering field.
Professionals will represent companies such as Level Ex, Pfizer, Project Farma, KPMG, Charles River Labs, Hospira, Zimmer Biomet, Astellas, and One Three Biotech.
In 10-minute one-on-one sessions, they will talk with students about their work, the challenges and rewards of the field, how they landed their positions, and various career paths, Mittelman said.
The virtual industry day will take place on the Handshake career platform. Registration for students, including the ability to select one-on-one sessions, will open on March 1 at 9 a.m.
Mittelman added the industry day is not a career fair and is more informal and meant to provide students with information. Students who attend do not need to bring any prepared materials, but Mittelman recommends that they brainstorm questions to ask the industry professionals.
If you have any questions or would like to learn more about this event, please email Mittelman at mittel@uic.edu.
Modified on September 07, 2021