UIC professor's startup looks to improve independence for individuals with disabilities through hidden wearable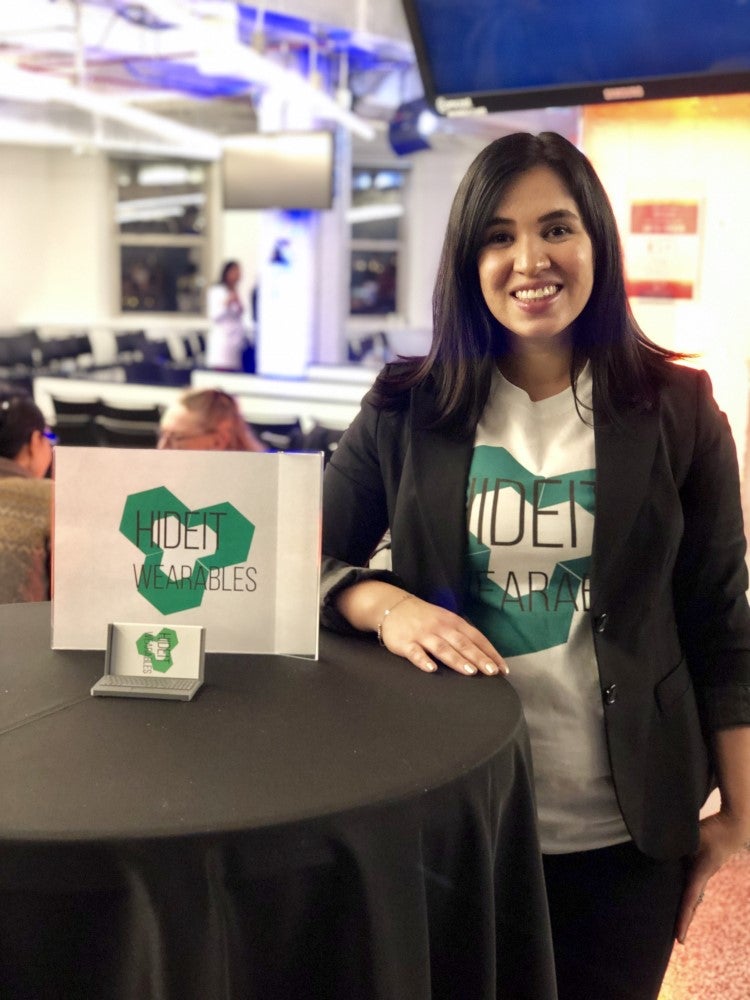 A University of Illinois Chicago professor is using her passion for helping individuals with disabilities and her neuroengineering expertise to build wearable devices that can help people live independently. And with the help of her research lab and start-up business, that independence will be right at the tip of those individuals' tongues.
Hananeh Esmailbeigi, a clinical assistant professor with the UIC Richard and Loan Hill Department of Bioengineering, founded HideIt Wearables in 2018 to develop assistive wearables that are both affordable and customizable for individual patients. Esmailbeigi worked with Nicholas Marjanovic, the company's chief technology officer (CTO) and a UIC bioengineering PhD candidate, and their team, to develop a wearable retainer system that wirelessly interacts with the world around the user.
The wearable features small Bluetooth electronics that the user could manipulate with their tongue. The electronics are sandwiched between the two layers of thin mouth retainers.
"The tongue is a very powerful muscle," Esmailbeigi said. "It is directly connected to the brain, so in cases of spinal cord injuries, it still remains viable. We embed the similar sensors that are in a person's phone or touchpad, which they use their fingers to manipulate, in thin electronics that are then placed inside the retainer."
The wearable then becomes a controller for objects such as wheelchairs, robotic hands or arms, cell phones, computers, or anything else with a Bluetooth connection.
In addition to granting a person more freedom, placing the wearable in a retainer allows the user to retain privacy. Esmailbeigi said most assistive devices cause unwanted attention, which could discourage their use.
"We asked ourselves, what is one place where we can put a device that is private and only you will know about it?" she said. "If the device is hidden inside of the mouth no one will be able to tell. The challenge was to make the electronic as thin as possible."
Another goal of the startup is to create assistive devices that are affordable for people across the globe. Esmailbeigi said many devices created in the U.S. are too expensive to help people in need. To help solve this problem, HideIt plans to donate one device to the developing world for every six it sells in the U.S.
The research and the startup are a spinoff of Esmailbeigi's Wearable Technology & Sensory Enhancement Laboratory at UIC. Students in the lab are currently working on brain-to-computer interfaces that can be created at a lower cost, as well as other wearables that can be used to assist individuals and medical personnel.
Esmailbeigi noted bioengineers are perfectly positioned to be leaders in the wearable industry, which Gartner predicts will see shipments of 225 million devices this year, up 25.8 percent from last year.
"Bioengineers are engineers who are trained to design hybrid devices that connect technology to biology," Esmailbeigi said. "It is definitely the job of a bioengineer to develop wearable technology."
On that front, Esmailbeigi, along with Marjanovic and Joe Hummel, a clinical associate professor with the UIC Department of Computer Science, have started offering the "Wearables and Nearables Technology Laboratory" class for undergraduate students. Esmailbeigi said she has not come across any other class like it being offered in the U.S.
The class teaches students how to design, build and utilize wearable devices. The course trains students to make small electronic devices and sensors, how to program those devices, how to make small chips work for a specific application, and how to collect and process the data from the devices, all of which are key skills for creating a wearable device.
As for her startup, Esmailbeigi said HideIt Wearables has tested the retainers in healthy volunteers and hopes to begin testing the device on patients later this year. In addition to the research, the company is focused on making business contacts and speaking with potential investors. The company has already worked with 1871, Chicago's center for technology and entrepreneurship, and was part of 1871's fourth Latinx Incubator Demo Day last December.
"The field is definitely blooming, especially with the technology advancing thanks to things like cell phones," Esmailbeigi said. "Smaller portable electronics allow us to put sensors in more places. Wearables are the future essentially, we will all be wearing sensors and also have sensors around us."
Modified on July 12, 2021