Bioengineering Ph.D. student Ghasem Yazdanpanah receives ARVO 2019 travel grant
Bioengineering Ph.D. student Ghasem Yazdanpanah receives ARVO 2019 travel grant Heading link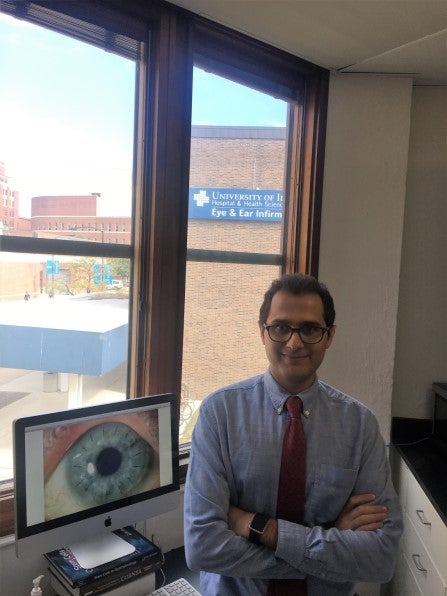 The Association for Research in Vision and Ophthalmology selected University of Illinois Chicago Ph.D. student Ghasem Yazdanpanah to receive the Qais Farjo, MD Memorial Travel Grant to provide partial travel support to attend and present at the ARVO 2019 annual meeting being held in Vancouver, Canada, from April 28-May 2.
Yazdanpanah, who has his MD and MPH degrees, will present his research about fabricated hydrogel made up of processed natural tissues with corneal wound healing effects at the world's largest research event in the field of visual sciences and ophthalmology. Yazdanpanah and his colleagues also created hydrogel from human amniotic membrane and found both hydrogels had similar corneal wound healing effects. The fabricated natural hydrogels have potential in corneal tissue engineering.
He is a student of Tolou Shokuhfar in the Richard and Loan Hill Department of Bioengineering and Mark Rosenblatt and Ali Djalilian, both from the Department of Ophthalmology and Visual Science. Yazdanpanah said his goal is to become a clinical scientist focused on ophthalmology.
Modified on July 02, 2020